Congratulations on your engagement! If you are planning an interfaith wedding, you have probably already learned a great deal about each other's religious traditions and you no doubt will learn more as you journey through your engagement and marriage. Here are some things to consider in your planning, as well as some good resources for you.
---
Understanding Both of Your Traditions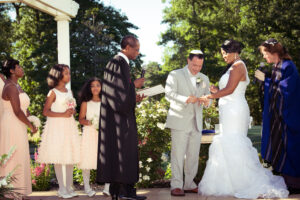 When choosing which traditions are meaningful to you, it helps to start by understanding what is traditional! Start by talking about it and sharing what you know. Try to attend services together to gain a greater understanding of each other's religion. And if possible, talk with each other's families about what traditions are important to them. Navigating your families' feelings can be challenging, and bringing together your ceremony in a way that is inclusive of them will help make this a positive, meaningful, once-in-a-lifetime experience for them as well. (And it will help you as you bring your families together once you are married!
You can learn more about elements of a traditional Jewish wedding ceremony here. And here are links to information about traditional Catholic, Protestant (Book of Common Prayer), Muslim, and Hindu Weddings.
---
Determining What to Include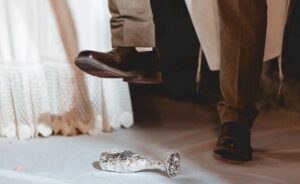 Your clergy members will tell you any necessary wedding ceremony rituals in each faith. Everything else is up to you. As you explore the various elements of wedding ceremonies, some will stand out to you as particularly wonderful to you both. Those are the ones you should include! As you ponder them, talk with your clergy about what you like and don't like and what feels meaningful to you both. Some couples choose to have a mix of their religious traditions and some prefer to have fully secular weddings—and some are in between! Feel free to be creative and incorporate the things that feel right to you.
---
Selecting and Working with Clergy
Sometimes a couple will have a clergy member from a home congregation or from their childhood, but sometimes they will choose clergy specifically for their wedding. Any clergy member you choose should be someone you enjoy connecting with – and someone who is comfortable with the ceremony you want to create. Some couples prefer to have one officiant, from one of their faiths. Others prefer to have co-officiants.
---
Again, congratulations! May you have a wonderful journey planning and experiencing your wedding—and beyond!
Do you have questions for me? Feel free to reach out by completing the form below.